The Restoration Effort of Our 1921 Seagrave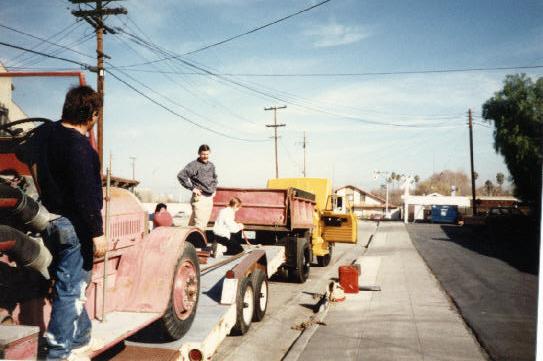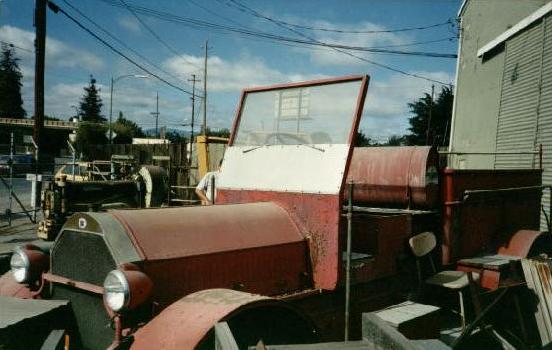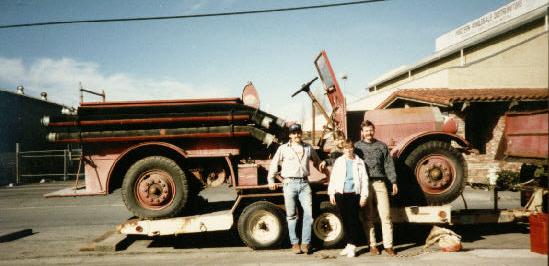 Capt. Bill Mann, F/E Al Miller, Capt. Dave Lockner & friends towed the Seagrave from the Los Gatos Junkyard in 1988.

After Capt. Bill Mann towed the Seagrave back to San Mateo, it sat in the drill yard for three years before the San Mateo Fire fighters voted to pay Capt. Mann his $6000.00 purchase price.
San Mateo Citizen and member of the Peninsula Fire Buffs (now known as Support 14), Ric Zobelein, volunteered to work on the engine. Through his mechanical genius and determination, he got the engine running. He even managed to get its 750-gallon per minute operational. Ric has played and still is playing a very important role in guiding our restoration effort. He rebuilt his 1927 Lincoln and has a professional background in mechanics and fire service protection.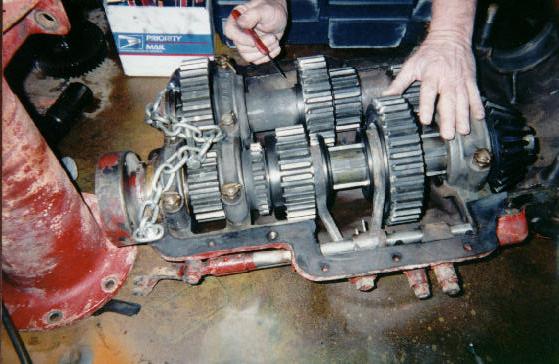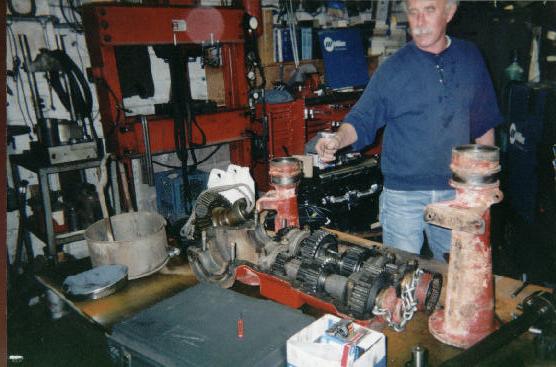 Gears were replaced by Doug Jacobson

Doug Jacobson of Doug's Truck and Equipment Repair of San Mateo made replaced worn gears on the engine's differential and rebuilt its suspension. Jeff Bartlett of Bartlett's Auto Shop of Belmont is in the process of painting (as of July, 2003) and reassembling the body onto its chassis.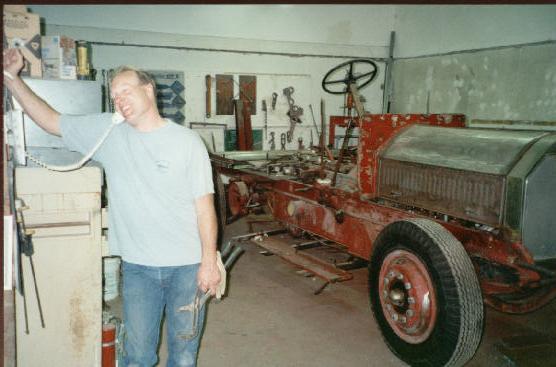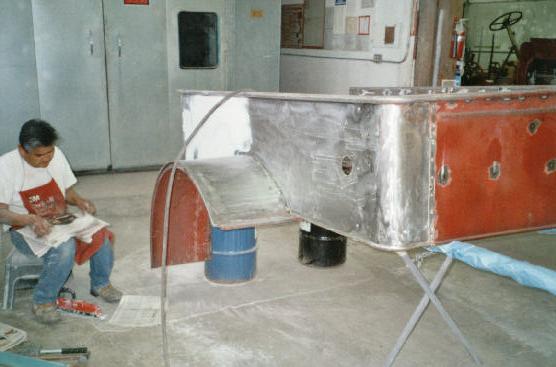 Jeff Barlett shown with Seagrave in 2000 before the body was removed. A worker starts removing paint from the rear hosebed/fenders.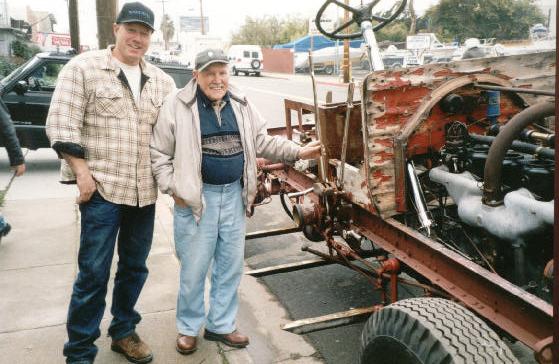 Jeff Barlett with his father Gene, received the chassis after Jacobson's repairs.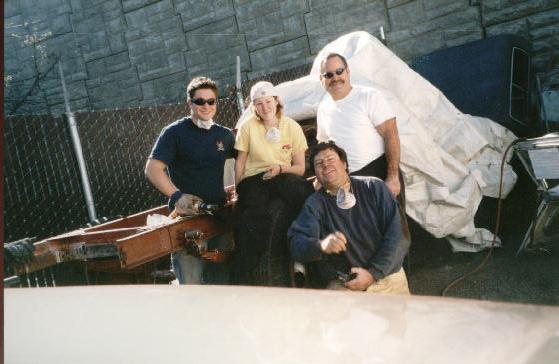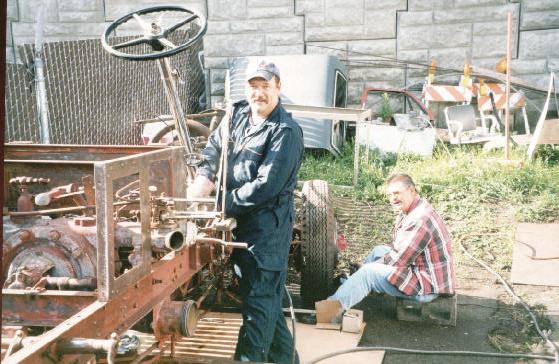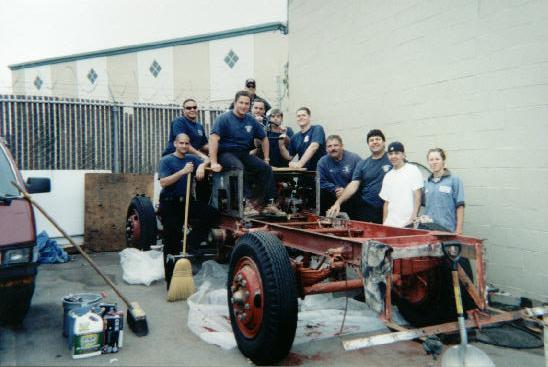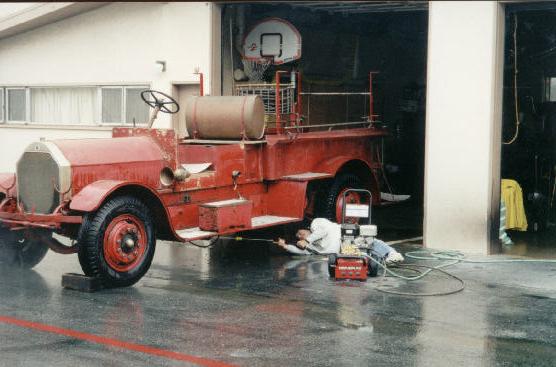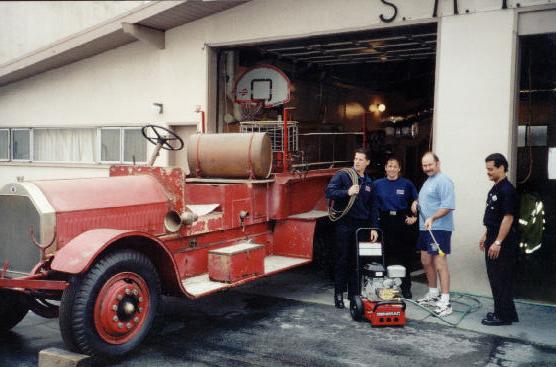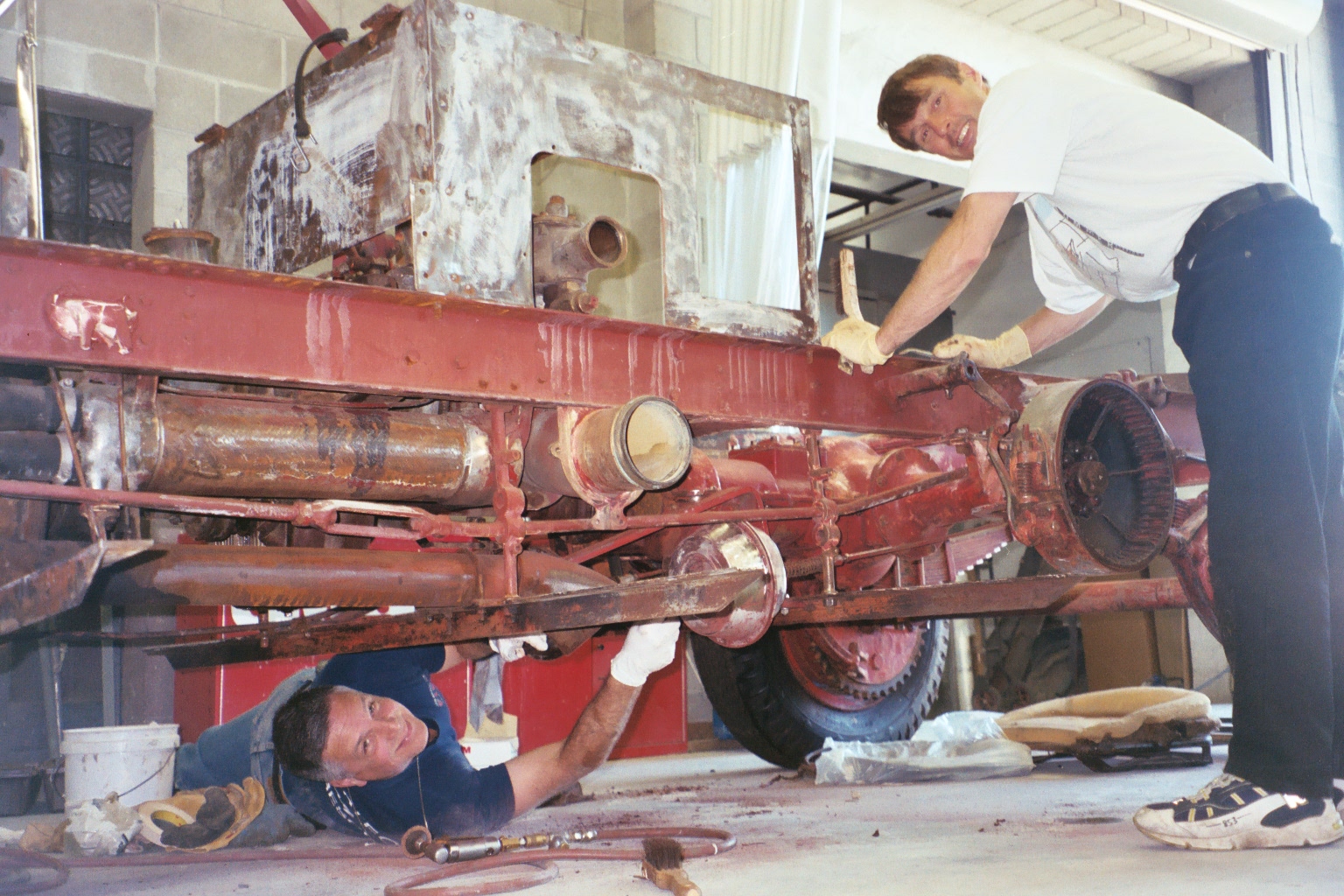 Many off-duty San Mateo Fire fighters, San Mateo Fire Explorers, and San Mateo Retired Fire fighters have helped in cleaning the undercarriage of the engine.

San Mateo Fire fighter Christian Olazar and his father, Jose have shaped the new oak hardwood for the engine's running boards, hosebed boards, its dash and cab floor, and a new battery box. Brian Hadnagy of Avenue Silver Plating Co. Inc of Redwood City, Donnie Snow of the Chrome Warrior, Dave Cantwell of Cantwell Associates of San Bruno, Koch's Steering Wheel Restoration of Canyon Country, A-1 Radiators of San Mateo, the Clocksmith of San Carlos and other professionals used their talents towards the engine's restoration.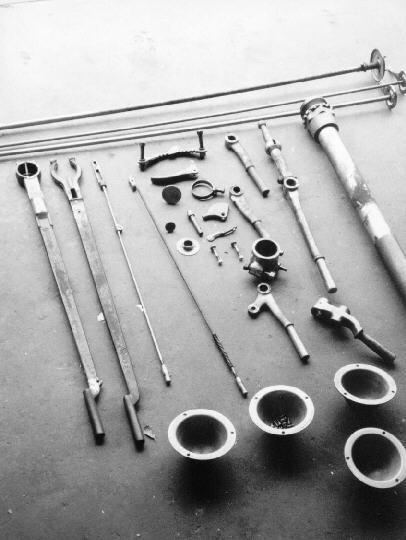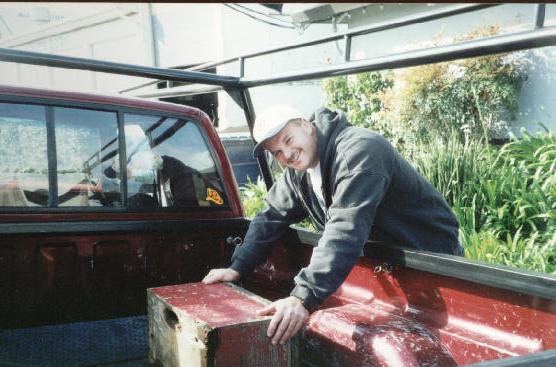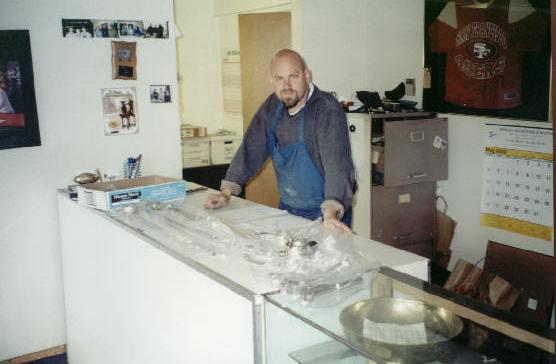 F/E Christian Olazar Brian Hadnagy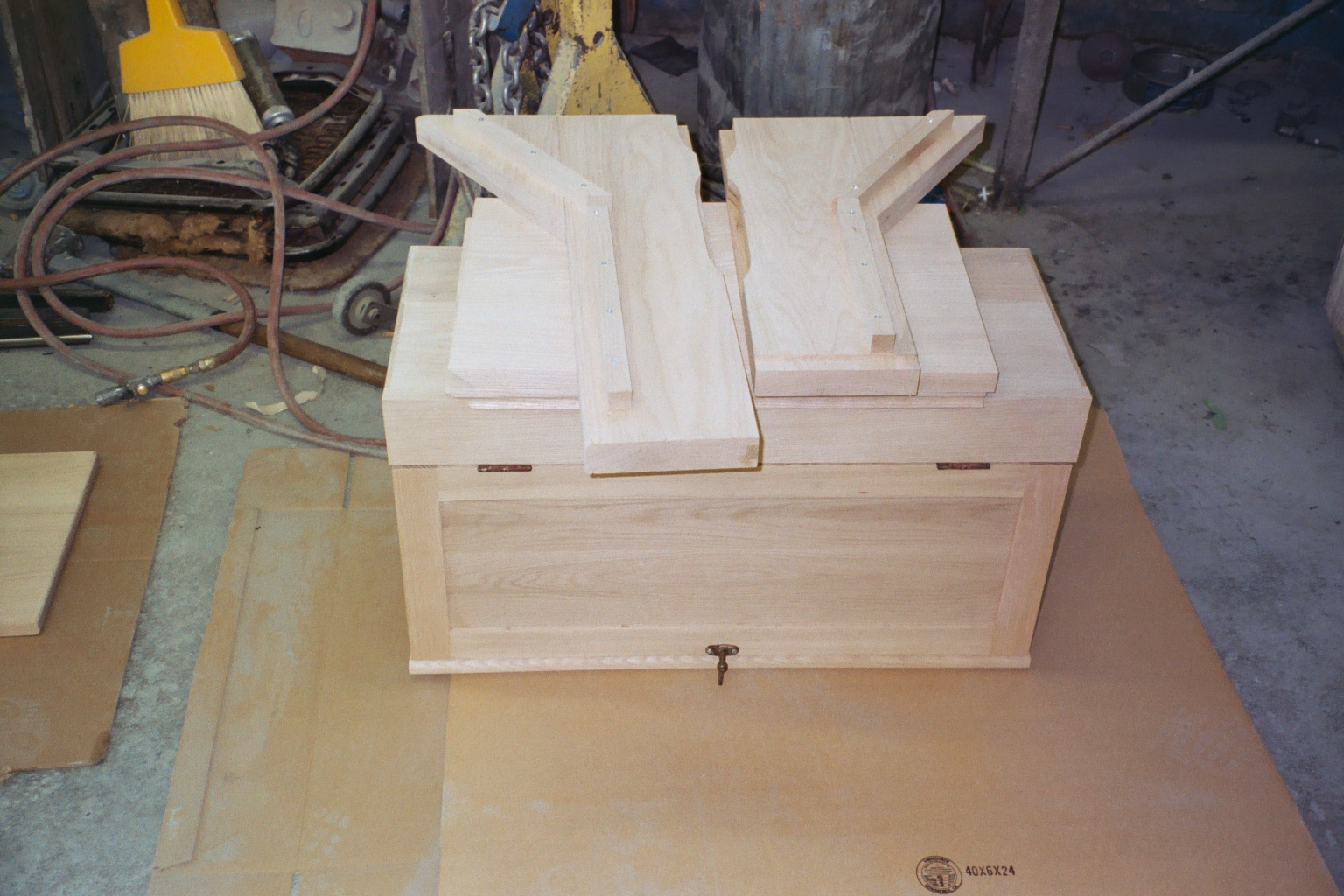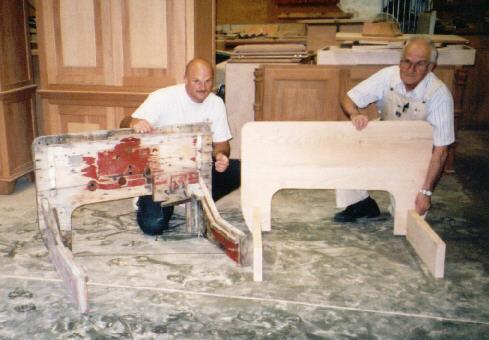 Some newly plated parts Red oak battery box, part of the cab's floor Christian and Jose Olazar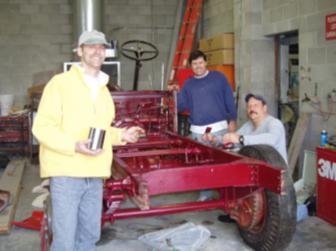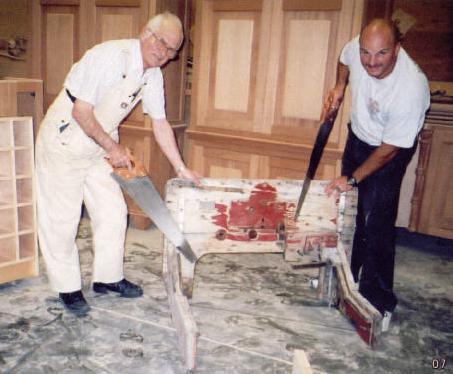 Left: Bill Euchner, Jeff Barile, and Ray Sorensen paint the undercarage (1/13/04).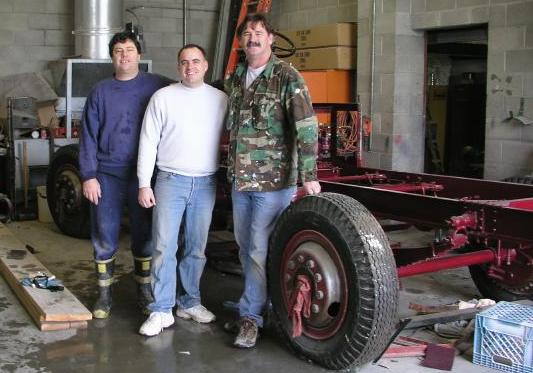 Left to Right: Jeff Barile, Robert Cook, and John Warren (2/11/04).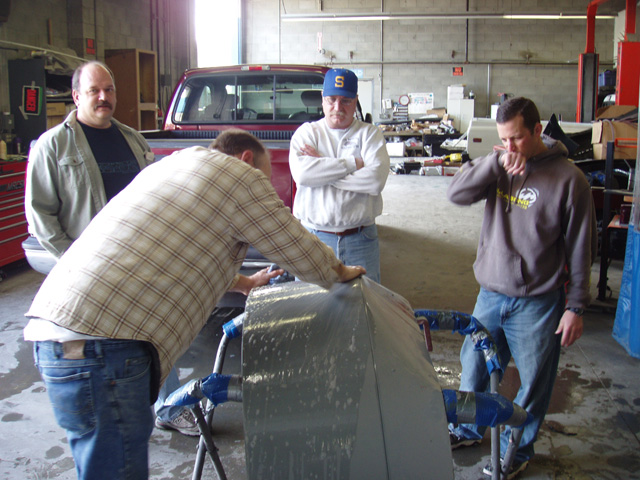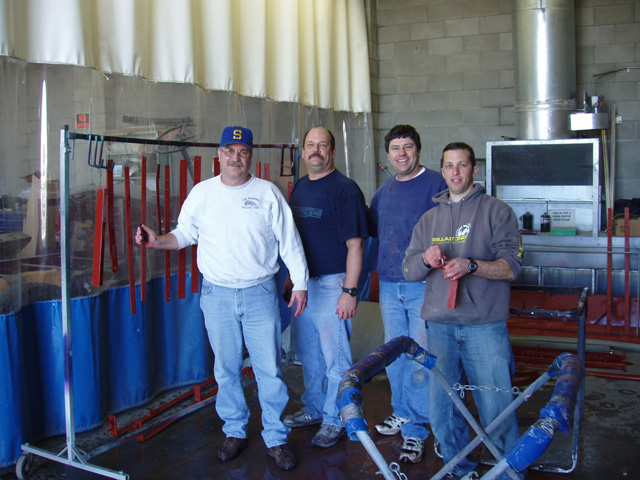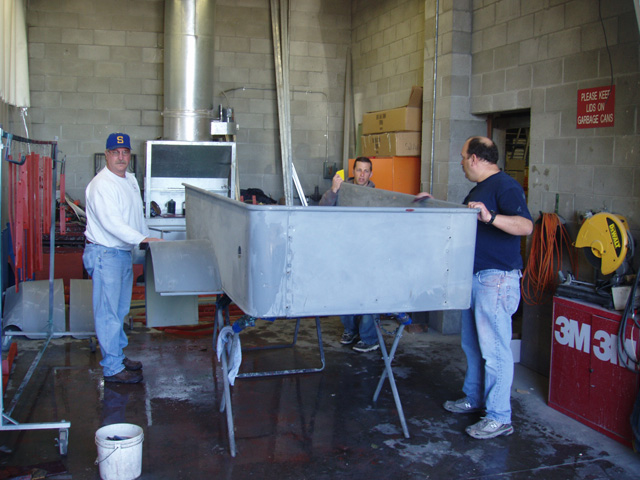 Jeff Bartlett instructs Bill Euchner, Mike Galvin, & Steve Stanovcak on the finer points of refinishing (1/31/05).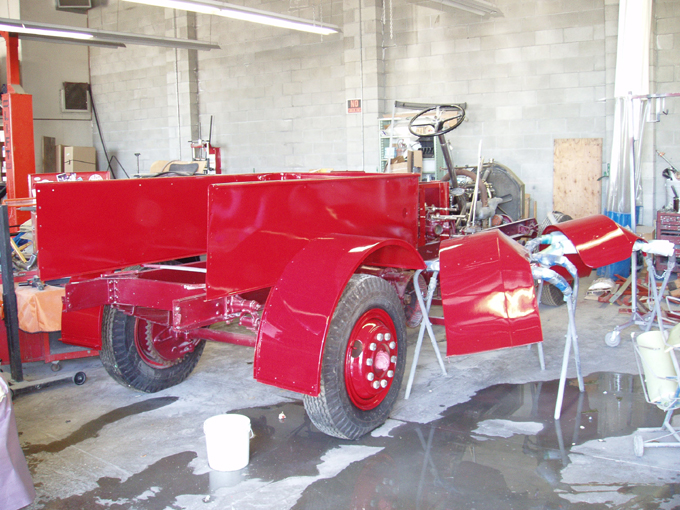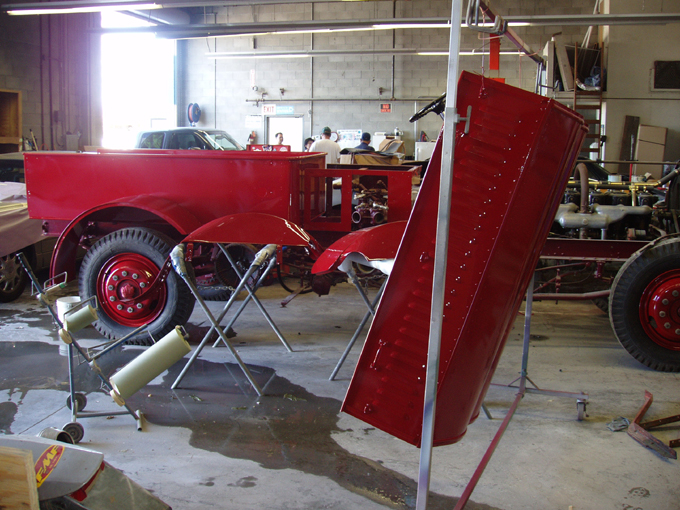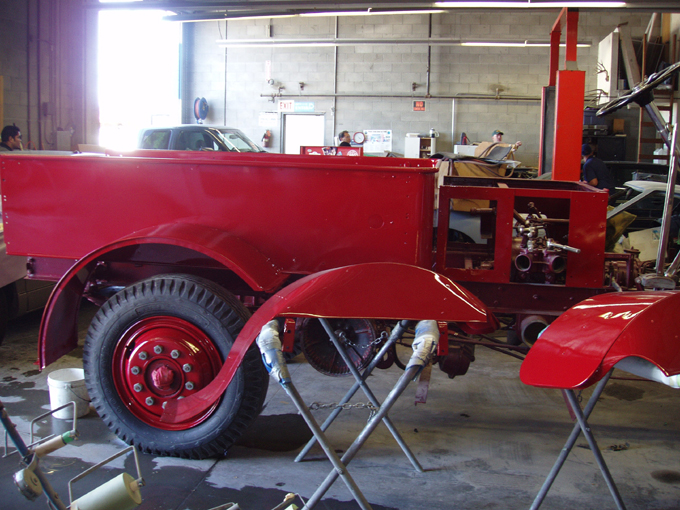 New painting started on 5-9-05.

5-18-05: Greg Wilson works on installing wooden dash/firewall.
Jose Cruz sprays some of the
Seagrave's parts at Bartlett's.
Jim Hadnagy of Avenue Plating repaired and refinished headlights and a searchlight (5-29-05).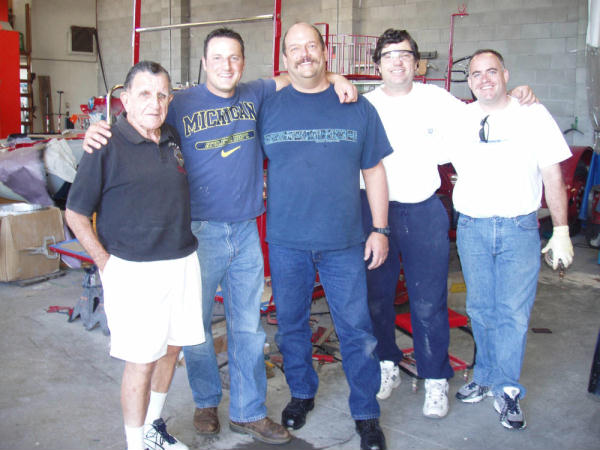 Al Ferrer, Dean Debastiani, Bill Euchner, Jeff Barile, Robert Cook- 10/3/05
Don Johnson from Mel Johnson's Metal Products cutting diamond plate- 10/3/05
Master diamond plate installer: Bill Euchner- 10/4/05


Bill Euchner working on the hose bed boards- 11/8/05
Bill Mann working on the electrical system- 11/21/05
Jeff Bartlett's crew: Dennis, Jeff, Darrell, Rob, Tony, & Jose (L to R).
Jeff Barile affectionately bids farewell.
Quality Tow takes the Seagrave to Station 27 on December 7, 2005.

The Seagrave receives its first bath on December 11, 2005 at Station 27 from crews 25 A and 27 A.
Bill Mann, Rick Zobelein, Doug Jacobson (l to r) discuss E-1-21 at Doug's Truck
Driving along So. Delaware 2/17/06
At home at last at Station 21 on 2/23/06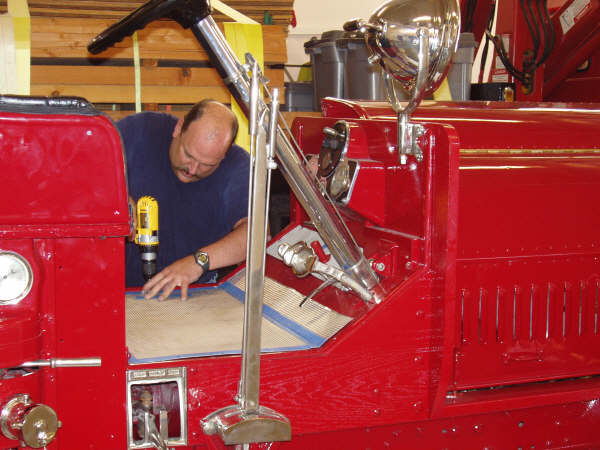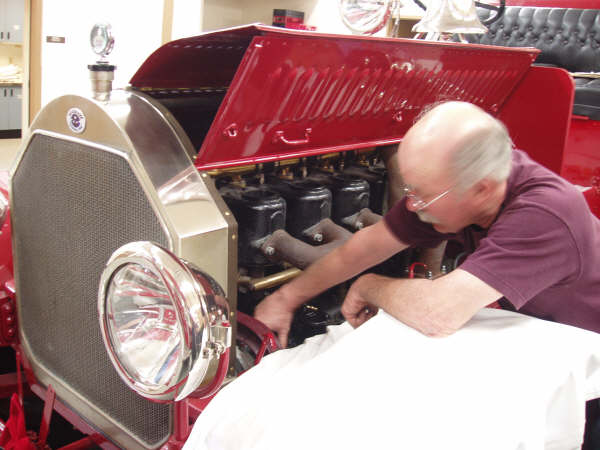 On July 6, 2006, Bill Euchner puts the finishing touches on the diamond plate for the cab.
Doug Jacobson installed newly rebuilt water pump on 3/22/07
| | | |
| --- | --- | --- |
| | | |
| Honorary Fireman Al Ferrer's Memorial Bell installed in March 2007-- RIP 6/3/06 | Jeff Barile cranks the engine over to position water pump fitting 3/22/07 | Jerry Lee rebuilds the engine's roof ladder-- 3/23/07 |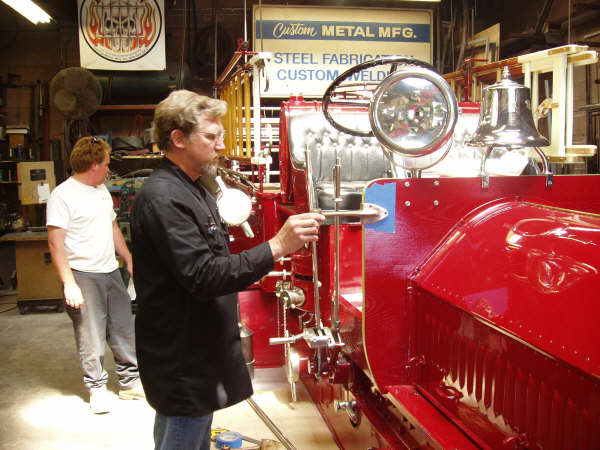 Gerald Shuba, of Custom Metal alines one the the grab bracket on the dash after his crew formed the metal trimming around it. 5/30/2007
| | |
| --- | --- |
| | |
| On May 6th 2008, Scott Campbell presented us with the Seagrave's newly lettered hood. | The hood back on the Seagrave at Station 21 |
| | |
| --- | --- |
| | |
| Ready for another event but this time Rick Zobelein "hand cranked" her because of a broken starter spring. 12/2/08 | Broken spring on the left, new manufacted spring from Chicago on the starter drive, with its starter gear housing above it. 1/2/09 |
| | |
4/13/09, Bob Petruzzi, of San Carlos, milling special parts for the starter assembly
4/15/09, Jeff Barile installed the retooled starter assembly and it worked perfectly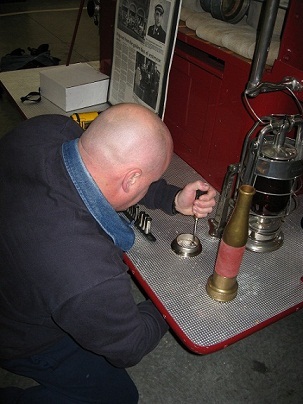 2/25/11, Christian Olazar installed nozzle holder
| | |
| --- | --- |
| | |
| On September 24, 2011 the Seagrave took an unauthorized trip without a driver into the building across the street from Fire Station 21. | Jeff Bartlett took her in and started repairing her in December of 2011. |
| | |
| --- | --- |
| | |
| On June 1, 2012, Manny Avalos repairs the ignition and light switches in the dash. Problems with the ignition switch had caused the engine to shut down unexpectedly. | Merv Nichols from Livermove mentored Manny Avalos about the magneto he restored for our Seagrave on June 12, 2012. |
Doug Jacobson removed the clutch and had it rebuilt June, 2014. The photos are of the pressure plate (left) and clutch (right).