Historical Documents
E-1-21*
"I've Given You the Best Years of My Life"
by Engine (E-1-21)
as told to Captain Robert Greely in 1950
"Whewww! Am I tired! I've just been standing here thinking, reminiscing, you might say. Looking back over the years I've served this grand City of San Mateo-twenty-nine years it has been, doesn't sound like too much when you say it fast, but, oh, brother!- there have been days- well, I really don't mean it, but sometimes I did wish that I might have been just an ordinary touring car and escaped all of that hard work.
"I came to the City of San Mateo in April of 1921. I blush even now to think of the things they said- how beautiful I was- some even referred to my sleek figure and attractive coloring. Believe me! There wasn't anything like me for miles around. True, I've always been a little on the large side-Sophie Tuckerish you might say, but serviceable. My record shows that.
"I was dressed in the height of fashion, too- hard rubber tires, wooden spoke wheels, flaming red dress garnished with gold leaf scrolls, and fleur-delis- the very last word in fashions of the day. Still, with all of my beauty, I knew I had a real responsible job to do; I don't like to boast, but I sure did it!
"There was some self-satisfaction to knowing that I was the first and only pumping engine in this vicinity in those years. The cost of obtaining my services was considerable- $12,500.00- but they've certainly gotten their money's worth out of me.
"Do you know that the year after I came here they ran me breathlessly to the site of the San Mateo Planing Mill and put me on a real 'worker'- 17 hours and 50 minutes. I pumped steady without even a breather, and if you'll excuse the expression, my tailboard was really dragging when that was over. The 'boys' in the firehouse always treated me kindly, however, God bless them! I knew I was loved; I could tell from the caresses I received, the constant polishing and rubbing with an occasional affectionate pat. Sometimes I wondered if I hadn't wandered into a Swedish massage parlor in error.
"I'll never forget the year of 1926. That was the year I really went to the beauticians. They modernized me- removed my hard rubber tires and wooden spoke wheels in favor of Budd wheels with pneumatic tires. That's the year, too that they removed that nasty old chemical tank from my back and in its place installed an 80-gallon water tank with a booster line. They even changed the contour of my shape (blush) to conform with the 'new look'. Confidentially, I was thrilled beyond words.
"I hope I haven't given you the impression that all was styles and beauty treatments for me through the years, despite the fact that even today I've kept my shape and good looks. Here's a list of just a few of the jobs I've worked on: Levy Brothers Warehouse- 5th Avenue; Yokohoma Laundry- 5th between Railroad and 'B' Streets; the Fight Arena- the entire block from 5th to 6th on 'B'; the Templeton Crocker home in Hillsborough; Ridges Hay Barn- 10 hours and 30 minutes- no wonder I'm tired.
"It was in 1926, too, after I'd had a few of the workouts mentioned above, that it was decided I could use a little help At that time the City bough little E-2-27 Suburbanite Seagrave, a sister of mine, but kind of on the petite side- small and cute. The poor little thing only had a 400 g.p.m pump alongside my big 750 g.p.m. I always have said, through, 'Let's give credit where credit is due', and she really was a big help to me in the years to come.
"Excuse me for chuckling, but I just though of another incident in my colorful past—One really outside of my natural work of supplying hose streams for the purpose of extinguishing fires. San Mateo Park, the THE residential area of town, was without water due to a break in the water system. Who else would they call for but me! Yes sir! Eight hours straight I pumped that day, from east of the highway up the hill into another hydrant. I kept those people happy.
"Well, it's really gratifying to look back and be able to say, 'I've never let them down.' Oh, in these later years I may have grunted and groaned a little, but I always got them there—and once there, there was no stopping me. I feel a little sad saying this, but I can see now that I am getting just a little old. My! That new Seagrave—1000 g.p.m.—unheard of in my early days—and she is beautiful—reminds me of myself in my prime.
"I wouldn't want this to get around, but confidentially, I certainly will appreciate the rest when they retire me, particularly when I know that are not just going to junk (ugh! what a horrible word) me. They plan to keep me at Headquarters as a reserve engine. When one of these 'young timers' breaks down, they'll know where to run to for help. Believe me—I'll be the one that can give it to them."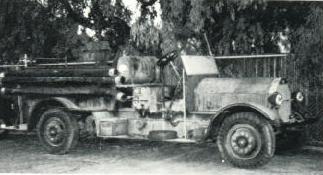 "Why Have You Forgotten Me?"
by Engine (E-1-21)
as told to Fire fighter Jeff Barile in 1990
"It has been 40 years since we last talked. Many things have happened to me. Some good and some bad. Do you remember selling me in 1962 to a man in San Jose? Although I was sad to leave the San Mateo Fire Department I lived comfortably with my new owner. For many years he took care of me, and every Sunday he would drive me around town with his family. Robert Nice, an ex-San Mateo fireman and now a San Jose fireman, would often wave and say 'Hi" to me as I drove by his station. I had heard that he told Chief Koron that I was still running around, and that the Department should buy me back for parades and such. But they could not be bothered.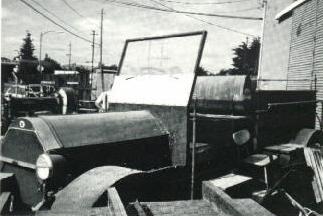 Unfortunately, my owner sold me to a junkyard. The man at the junkyard had all the right reasons for buying me. He wanted to restore me to my once-beautiful self, but he had too many other things to do. So there I sat outside in the rain and sun. My coloring faded, my fenders rusted, and my wooden running boards began to rot. I felt like nobody wanted me and I would rust away in a junkyard! Why didn't anyone care about me? Don't they remember how I was once the shining star of the Department? Why did they forget me?
"Luckily, one sunny day a man from Pleasanton, Mr. Bruce Bowman, saw me and the old faded San Mateo decal on my fuel tank. He called the San Mateo Fire Department, and Captain Bill Mann came down and bought me! He towed me to Station 23, and that is where I now sit. Although I am not as pretty as I was when I left San Mateo, and I can't drive on my own, I am glad to be home again. I am sure they will restore me. Boy, it is nice to be back home again."
*During 1946 Fire Mechanic Einar Peterson developed a standardized numbering system for all the Fire Department's vehicles. Pumpers are identified by the letter "E" for engine. The vehicle number follows the order when they were purchased with the year the vehicle was manufactured or place in service next. Thus the 1921 Seagrave is an pumping engine (E), it is the first engine purchased by SMFD (1) and it was manufactured in 1921 (21). Therefore its identification is E-1-21.