Historical Documents
History of the San Mateo Fire Fighters' Association
Part One: Henry P. Hull/ Hugh F. Morris Club
By Retiree Fireman Paul Peart



Worthily of historical note, if not astounding by the measure of change, were the major strides that took place in the San Mateo Fire Department during the 1960's.
When I arrived on the scene that first day of 1958, this was the "Hugh F. Morris" Fire Department. All other factors were incidental to his rule. If you worked at Headquarters, you could expect the Fire Chief to appear one morning while you were assigned to the apparatus floor. "Hello, sonny. Don't forget to clean our bathrooms."
Reality was you were a part of a 2-platoon force working on shift 72 hours a week, subject to calls 24 hours a day. You responded to all major fires as part of your $400.00 monthly wage. You could expect the Chief to also assign you to work as a Fire Inspector or as a Fire-Alarm Dispatcher for the added experience. The City of San Mateo made no allowance for health insurance or life insurance, and you paid up to 15% of your salary for retirement-if you survived to age 60.
The majority of all emergency calls were answered with one of the two-squad company trucks. If a major fire occurred you could expect 11 on-duty Fire fighters and the Fire Chief to respond.
About 1960 some progressive members of the Henry P. Hull Club (established on January 4, 1940) were Ed Ward, Elwayne Alexander, Henry Henrioulle, and myself. We were striving to attain recognition in matters concerning working conditions and welfare. Not without casualties, we did get our foot in the doors of the Fire Chief's office and City Hall. We eventually were recognized as an official bargaining unit in 1962. Subsequently in 1966, the Henry P. Hull Club (renamed the Hugh F. Morris Club in honor of the retired Fire Chief) and its Relations Committee were the recognized representatives of the Fire Department.
Meanwhile, City voters, in a major unified campaign involving everyone of concern, passed the most ambitious program of Fire Department improvements in its history. By 1972 we had new apparatus, new equipment, a new fire station (27 on De Anza Blvd), a compliment of 115 Fire fighters, and a capability nearly double what it had been 10 years earlier.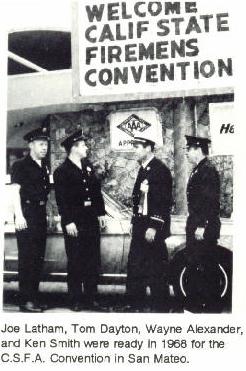 Also by 1972, now recognized as the San Mateo City Fire Fighters' Association, we had garnered nearly all the benefits, working conditions, and standards in place to this day. These included "bench-mark" comparisons, collective bargaining, merit system revisions in 1965, installing the existing Fire Marshal's office, 3 platoons, a 56-hour work week, the 2% age 50 retirement plan, and gains in every category of fringe benefits and wage standards. Above all, and most important to me in the nine years I served on the Relations Committee and as a Department representative and spokesman, was the status of being perceived by all our Bay Area suburban Fire Departments as the standard bearer among them. Between 1965 and 1975 I personally sat with most of these neighboring Fire Departments to help in their own pursuits. These were great years for me, years in which I take much pride. I sincerely hope that this status and pride will always be part of the San Mateo Fire Department.



Part Two: San Mateo City Fire Fighters' Local 2250
By Retired Fire Fighter/ Engineer Ron Munier


While the Hugh F. Morris Club organized social events for the Fire Department during the early '70s, it Relations Committee negotiated for the Fire fighters. I was a member of this committee. One year before the end of our contract with the City, the Fire fighters voted to join the International Association of Fire Fighters. We became Local 2250 of the IAFF on July 1, 1973. The officers were myself as President, Harry Burton as Secretary, Ron McGee as Vice-President, and Joe Sheeran as Treasurer. Local 2250 weathered the 1974 strike and became the driving force in forming a county-wide local, Local 2400 on January 1, 1975. Ron McGee became Local 2400's first President and served until 1976. Afterwards San Mateo had Vice-Presidents representatives. George Franklin, Joe Kelly, Joseph Assereto, Mike McCann, and I were Vice-Presidents. Today (1990) Richard Graham and Cory Trammell are Local 2400's VPs from San Mateo Fire Fighters' Association.